Baffoni's Poultry Farm, Verde Vineyards welcome Langevin during local food tour
Dan Kittredge
Johnston Sunrise
February 27, 2014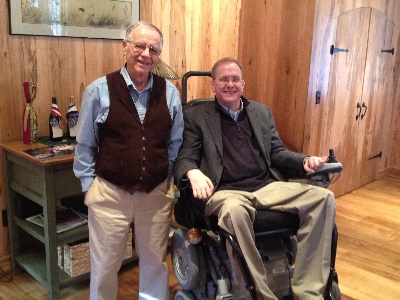 Continuing a tour designed to highlight food-related businesses across the Ocean State, U.S. Rep. Jim Langevin made stops at Baffoni Poultry Farm and Verde Vineyards in Johnston over the last week.
"What we need to do is get people back to work," said the congressman during his Feb. 21 stop at Baffoni's. "We should be focusing on Rhode Island … as a food capital of the country."
The tour kicked off earlier this month at Daniele Inc. in Burrillville, whose co-owner, Davide Dukcevich, accompanied Langevin to this year's State of the Union address in Washington, D.C. The congressman has said Dukcevich's vision of Rhode Island as the "Silicon Valley of Food" resonated with him and led to the scheduling of the food tour.
Baffoni's, located at 324 Greenville Ave., has been in operation since 1935, providing markets, restaurants and retail customers with chicken, turkey and eggs.
The 80-acre farm has seen significant growth in recent years, and is on the cusp of expanding its operation to include the preparation of poultry from other local farmers for sale.
Paul and Don Baffoni, the fourth generation to run the business, discussed the farm's history and recent advances during Langevin's stop.
Paul said the business has invested approximately $125,000 in new equipment to receive U.S. Department of Agriculture certification as the state's only on-site poultry slaughterhouse, which will in turn allow Baffoni's to process and package other farms' birds for sale in retail settings such as farmers markets.
"It's our intention to help the other small farmers," he said. "The buy-local scene is all about that."
Paul said Baffoni's has, in recent times, experienced the "first growth spurt this business has seen since the early '50s," doubling its workforce in roughly the last two years.
He said the business currently handles approximately 2,000 birds a week, and that number will rise to between 5,000 and 7,500 once the new certification is finalized, further creating an avenue through which the farm can remain "profitable and sustainable."
Don noted that working with the USDA has helped the farm generate "a lot of efficiencies."
"You get a lot of good suggestions, because they go to a lot of facilities," said Paul.
Don said the renewed interest in the business from the community owes to "people wanting to know where their food comes from." The chickens and turkeys at Baffoni's are fed a vegetarian diet without the use of hormones and antibiotics, he said, and the techniques used in raising and processing the birds go back decades.
"It's simple … it's like walking into 1950," he said.
"It's from a day old to the table," said Paul of the poultry raising process at the farm.
Paul said working with the nonprofit group Farm Fresh Rhode Island and the Market Mobile distribution service has "provided an awful lot of exposure" to Baffoni's, helping create connections with farmers, businesses and customers. He also said the farm's location near Providence has been a significant boon to business, given that proximity to the city allows for a high volume of sales within a small area and provides the "biggest advantage you can have" as a small farmer.
Ultimately, Paul and Don said Baffoni's greatest asset is its reputation for quality.
"Once they come through the door, they'll always come back here," said Don of the farm's customers.